Community Profile

This journal contains content only suitable for those over the age of 18.
Free Account
Created on 2011-12-30 02:27:47 (#1325956), last updated 2011-12-30 (299 weeks ago)
137 comments received
98 Journal Entries, 14 Tags, 0 Memories, 0 Icons

About
| | |
| --- | --- |
| Name: | moonyscribbles |
| | |
| | |
| Membership: | Closed |
| Posting Access: | All Members |
| | |

Mini Bio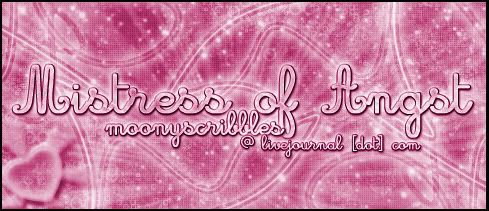 Welcome to my humble fan fiction archive! I'm so glad that you've come to read my stories. Please be forewarned that most of my stories have a fairly heavy element of angst in them. There is a plentiful supply of tissue boxes in the closet to the left of the biggest book case. You can also find some big, cushy thudding pillows, a few blankets, plenty of tea, cake, Caingerbread, and some more potent drinks, if you get my meaning, in the same closet. Feel free to plop down in any of the overstuffed armchairs, put your feet up on any of the ottomans, and enjoy your reading. Thank you for visiting!
Quick Navigation

About the Author || Complete Fiction Index || Story Tags || Universal Disclamer Notice

Credits

Layout Code: Ashes to Ashes by
inconformista @
mintyapple
Profile Banner:
girl_meets_boi @
likemagic



Connect
Administrators

Linking
To link to this user, copy this code:
On Dreamwidth:
Elsewhere: